Head Covers
Home > Golf > Head Covers
Protect your golf clubs with our luxury, finest quality leather head covers.
---
Products
---
Iron Headcovers - 3 Iron - Sandwedge Set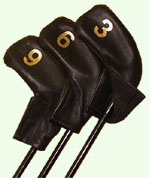 Luxury Headcover Set


For years golfers have neglected their irons.Unable to find a cover that was smart, serviceable and stayed on, irons have clanked up and down fairways worldwide. Now they can be protected with style at a reasonable price. We at Dragon Leather ...
Iron Headcovers - Extra Head Covers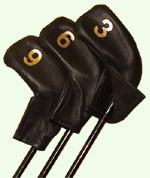 You can cover your whole set with our extra covers.1,2 iron or Lob,Approach,Gap wedge.We make them all. Dont forget ,should you lose one or more you dont have to replace the whole set.
Putter Covers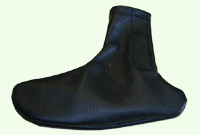 available in the same soft hide and colours, blade or mallet style, to add onto your set of iron covers.
Wood Covers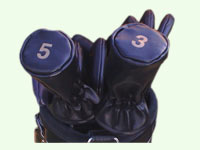 Please specify the make of your Driver. Covers available for all woods. nb: Please state when ordering if cover is for rescue wood. Colours :Black,Brown,Green,Blue. Please indicate when ordering or Black will be sent as standard